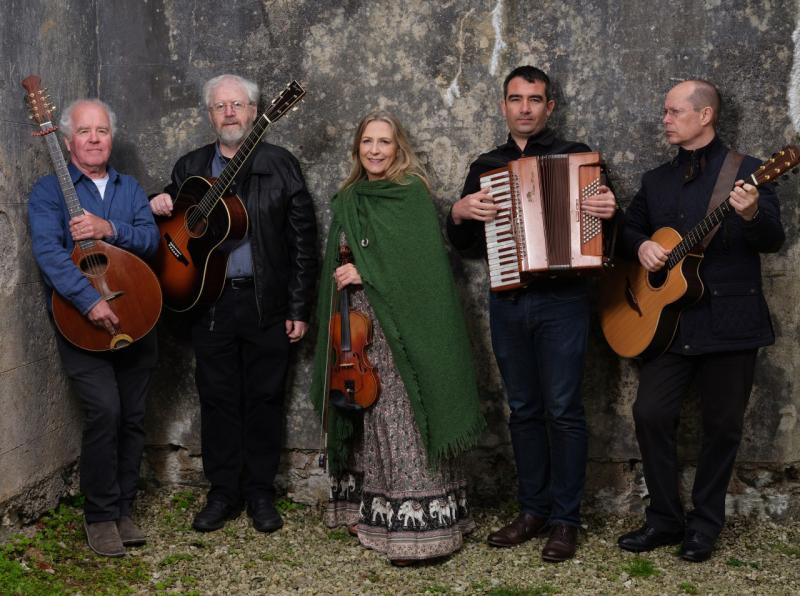 Boothbay Harbor Opera House: the famous Irish Altan in concert
On Wednesday, October 19, acclaimed traditional Irish band Altan arrive in Maine for the first night of their long-awaited US tour. Their only performance in Maine will be on stage at the historic Boothbay Harbor Opera House. Discounted tickets are currently on sale.
The spirit and sound of Altan stems from the deep and rich musical tradition of their native County Donegal. During one of his many visits to Gaoth Dobhair's Donegal Gaeltacht, Belfast-born flautist Frankie Kennedy met violinist and singer Mairéad Ní Mhaonaigh, sparking a deep musical connection, a marriage in 1981 and a journey that took them around the world. Their vision was to bring the unique repertoire of Donegal music to the world and that mission is still as strong as ever.
In the mid-1980s Mairéad and Frankie recruited bouzouki player Ciaran Curran from Fermanagh, whose intricate counterpoint is central to the Altan sound, and guitarist Mark Kelly from Dublin, whose mastery of a wide range of styles of guitar and harmonic vocabulary adds breadth. and color depth. As a group, Altan played their first concert on 1 June 1985 at St. John's Church in Listowel, County Kerry, during the famous Listowel Writers Week.
One of the band's finest hours came with the release of "Island Angel" in 1993, which was recognized by Billboard World Music Charts as the world's second best-selling world music album in 1994 and the same year. , Altan played for Bill Clinton at the White House. The band will play for US Presidents during their careers and accompany Irish Presidents on state visits.
A record deal with Virgin Records followed in 1996, which catapulted the band onto an extensive touring schedule over the next decade. This period saw them work with many American artists including Dolly Parton, recording on her album "Heartsongs" (1994) and its follow-up, "Little Sparrow" (2001); she returned the favor on the group's 2002 record "The Blue Idol" as a duet with Mairéad on the song "The Pretty Young Girl".
Altan has traveled with Irish President Mary MacAleese and President Michael D. Higgins on overseas state visits to Japan, North Korea and Italy. President Higgins invited them to join him at his residence, Áras an Uachtaráin in 2018 to celebrate their 30 years as a band. Donegal County Council held a civic reception at their offices to mark the occasion in May 2018. In 2006 the Irish Government also honored Altan by putting them on an official postage stamp to celebrate their contribution to Irish culture, one of the highest honours. granted to an Irish citizen.
Martin Tourish, a former TG4 Young Musician of the Year, took the accordion seat in late 2013 and the band recorded their album The Widening Gyre in Nashville with award-winning artists such as Mary Chapin Carpenter, Jerry Douglas and Alison Brown. This album explored the connections between Irish music and Bluegrass music, a particularly special moment of which was performing at the Grand Ole Opry with Ricky Skaggs in 2016.
Founding member and leader of Altan, Mairéad Ní Mhaonaigh received the Donegal Person of the Year award in 2008 and the coveted TG4 Gradaim Ceoil (Music Award) 2017, for his musicality and singing. These are the highest honors a traditional musician can receive in Ireland.
Derry guitarist Dáithí Sproule, whose first band was the legendary Skara Brae, has lived in Minnesota for many years. Dáithí was one of the first guitarists to develop the DADGAD guitar tuning for Irish music. In 1995 he released his first solo album "A Heart Made of Glass" with songs in English and Irish. In 2008 he released an instrumental guitar album "The Crow in the Sun", featuring 13 original compositions. As well as performing and recording, Dáithí is a teacher and lecturer in subjects ranging from guitar styles and traditional songs to Irish language and myth.
To find out more about Altan, visit https://altan.ie.
Tickets for this extraordinary evening of traditional Irish music are available by contacting the box office at 86 Townsend Ave., open Wednesday through Friday 10 a.m. to 2 p.m., or by calling 207-633-5159. Tickets and information are also available at boothbayoperahouse.com. The concert starts at 7:30 p.m., the doors to the seats open at 7 p.m.
The evening is made possible thanks to the generous sponsorship of an anonymous fan of the Opera and Altan.