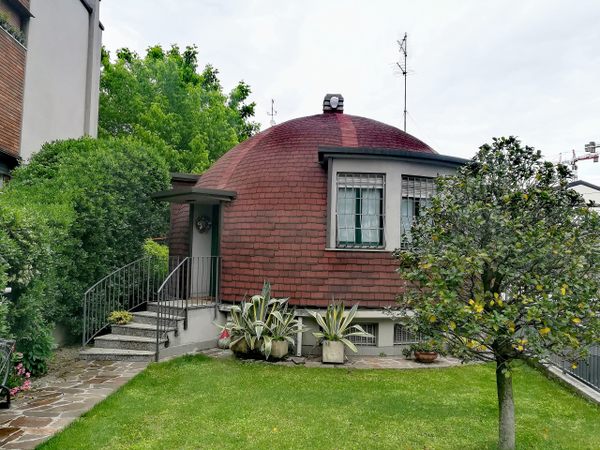 Case a Igloo – Milan, Italy
The north of Milan, where the urban The fabric extends towards Greco Pirelli and the old industrial area of ​​the city, hiding one of the most curious residential experiences ever built in Italy: the igloo houses of Mario Cavallè.
We are in via Lepanto, Maggiolina district, close to the so-called Village of Journalists, housing and social housing for the small and middle-class Milanese designed by the engineer Evaristo Stefini and built by a cooperative – mainly made up of journalists, publicists and lawyers—between 1909 and 1912 in the former municipality of Greco.
A project born following an editorial published in 1911 by Mario Cerati, director of The Secoloin which it was denounced how the government's attention was focused only on the working masses and on popular town planning, while middle-class neighborhoods were scarce.
Between two and three-storey Art Nouveau buildings and large green spaces that make this district the first example of a garden city in Italy, a few years later the eight concrete igloos built in the first post-war period (1946) on a project by the engineer Mario Cavallè, also responsible for the mushroom houses of the Maggiolina district, demolished in the 1960s, but also known for being one of the main experts of those years in the field of cinematographic architecture.
The housing pattern and construction technique of igloo houses, also called pumpkin houses, are a legacy of the United States, where circular house architecture was formed and where, at that time, circular house architecture was quite widespread: from here Cavallè was inspired to design houses with a circular plan of about 50 square meters developed on two levels (basement and first floor).
The vaulted construction system, made up of openwork bricks arranged in converging diamond shapes, allowed maximum freedom in the layout of the interior spaces, where the original layout included an entrance, a bathroom, two bedrooms and a kitchen.
Cavallè's project, which now appears far-fetched, was actually quite concrete: 12 temporary dwellings that could have represented a rapid response to the needs of displaced families, with the houses destroyed by the bombardments of the Second World War.
Today, only two igloo houses have retained this system, while the others have undergone major expansions and renovations: one of them has a new compartment, combined with the original igloo, intended to be a bathroom, while another has been redesigned as an open loft.
The igloo houses and the two mushroom houses of Mario Cavallè alla Maggiolina seduced the inhabitants, who decided to stay and live there. They were nearly demolished in the 1960s, but architect Luigi Figini stepped up to prevent them from being demolished.