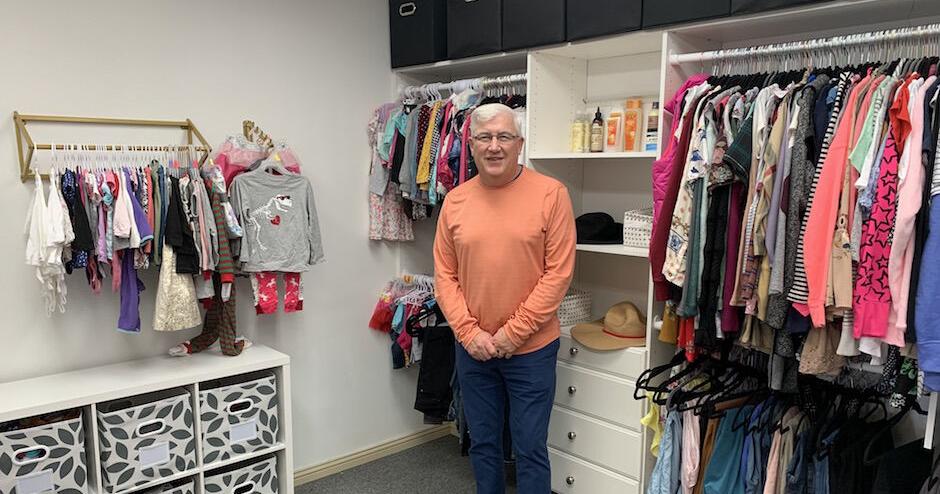 Children's lantern welcomes Heilshorn and prepares for an open house | Local news
Children's Lantern in Defiance welcomed Steve Heilshorn as the new Executive Director.
Heilshorn, graduated from Defiance High School in 1981 and graduated from Defiance University in 1986, was a member of the board of directors of the 501 © 3 organization before being hired full time as an executive director on 22 November, following the departure in August of former executive director Nate. Taylor.
The organization, which has served foster families, adoptive families, elderly foster youth and victims of human trafficking in the Six Counties region of Defiance and beyond since June 2011, is where Heilshorn explained that God led him on his journey of faith. .
"Every step of my journey has led me to this position here today," Heilshorn said. "My experiences working in the church, in all aspects of the church, from children's ministry to youth ministry, from associate pastor to senior pastor, have led me to this position of executive director. Watching God lead these steps has been an incredible blessing.
"Some things happen, and you wonder why the ministry changes, but when you get to the other side, you realize that God had it all sorted out and planned everything," Heilshorn added. "I am delighted to be in Defiance again, and being part of the ministerial association now, I can see God doing great things here in this community."
His journey of faith, Heilshorn explained, began in the early 1990s.
"God called me to ministry in 1991 when I was working in my beautiful furniture and appliance store, Cooper Furniture and Appliance (in Oakwood)," began Heilshorn, who studied business administration at Defiance. Middle School. "At that time, I went to work part time with Youth for Christ at Paulding and Wayne Trace schools.
"My wife, Leslie, was called to the ministry in 1994, so we quit the furniture business and went full time with Youth for Christ," Heilshorn continued. "Because we lived in Oakwood, I did full-time ministry in Paulding, Wayne Trace, and Leipzig. We moved to Paulding in 2001, and in 2004 I accepted a post as youth pastor at Trinity Friends Church in Van Wert, where I stayed for 13 years.
In 2017, a new opportunity opened up for Heilshorn and his family, which includes sons Samuel (wife Marissa) and Benjamin.
"I ended up taking a senior pastor position at the Dupont Brothers Church in the fall of 2017, and I was there until last September," Heilshorn said. "In September, Tim Tracy and I each worked part-time to oversee the operations of Children's Lantern, knowing that there might be a full-time position here, which I started on November 22."
Heilshorn is excited about the future of Children's Lantern, which will be hosting an open house to present its Hope House on Thursday from 5 p.m. to 8 p.m. Hope House is where the organization houses new clothing and supplies for foster children and families.
"To be in this position, for me, is to move this organization forward in the direction it was founded," said Heilshorn. "When the Tracys launched Children's Lantern 10 years ago, it was founded as a ministry to support foster care and the fight against human trafficking, with the aim of being the Christ in these areas. I want to make sure that Christ is at the forefront of everything we do.
"What God has brought to Children's Lantern over the past two years, we're really starting to see take off from the way the ministry is supposed to work," Heilshorn continued. "We have the new office, we have the Lantern Lofts (apartments above Ruby Rose in downtown Defiance to accommodate youth in foster care), which will be welcoming a few young adults from January 1. To see God working in all of this is an incredible blessing.
Regarding the open day, Heilshorn is delighted the public is discovering what Children's Lantern has to offer.
"The Open House is an opportunity for people to stop by and see our office, see where we are located and understand our Hope House," Heilshorn said. "Our Hope House is a store for host families who need clothes, diapers, child seats etc. We think it is important in foster families that foster children have new items, especially those that just come with the clothes on their backs.
Heilshorn went on to explain himself and his staff, which includes Abbie Koiner, Family Care Coordinator; Ashlee Vandemark, Chief Financial Officer; and Christina Schafer, Services Coordinator; have a shared vision for the future of the non-profit organization.
"One of the things I want to do is connect with churches and people who believe in our ministry and talk to them about our needs," Heilshorn said. "It is a blessing for people to be able to give of their time, talents and prayers. I want people to know how this can be done. So far, I have been a pulpit in three churches, I want to continue to do so, and I want to stand before local service organizations to share what we are doing.
"We want to make sure the people at Defiance know that God is going to use the children's lantern for His will, and that we are alive and well," Heilshorn added.