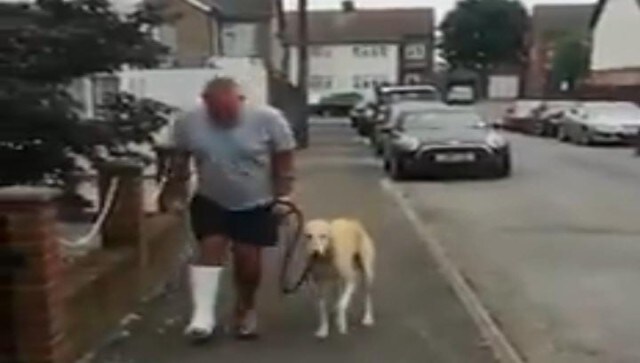 Dog imitates injured owner in touching video
Dog imitates its injured owner. Twitter/@hvgoenka
No one can deny that a dog is man's best friend. Dogs are known for their loyalty to humans and they are considered a member of the family by their owners.
A heartwarming video has been shared on Twitter that reaffirms the strong friendship between humans and these adorable creatures. In the video, a dog can be seen hopping with one paw in the air. The reason? It attempts to mimic the walking style of its injured owner.
The owner can be seen walking slowly as he injured his right leg. The dog can be seen walking with him at the same pace in the video. The clip was shared by Harsh Goenka, president of RPG Enterprises. He wrote in the caption, "Dogs always follow their master."
Watch this video here:
Many people found this video adorable. One user said, "So cute sir."
While agreeing with the clip's caption, one user shared a funny clip in which a dog can be seen standing on the roof of an auto rickshaw and driving it around.
Another viewer shared a video of a dog delighted to see his master after a long time. The dog is so excited that he literally starts dancing and jumping.
Some gave DOG's full form as "Duty Obedient Guard", leaving other users elated.
It's so sweet….. DOG (Duty Obedient Guard).
Really they are so affectionate.

— The Y Kay (@TheYKay1) October 2, 2022
This isn't the only video on social media where a dog has been seen trying to copy human behavior. Recently, a video was shared on Twitter in which a dog acts hurt to get food.
Watch this video here:
The dog hops down the street with one paw up. He comes over to the person apparently holding the camera and looks at her with innocence and hope. The individual gives him what appears to be bread, and the dog takes it, then begins to walk normally.
Read all Recent news, New trends, Cricket News, bollywood news,
India News and Entertainment News here. follow us on Facebook, Twitter and instagram.