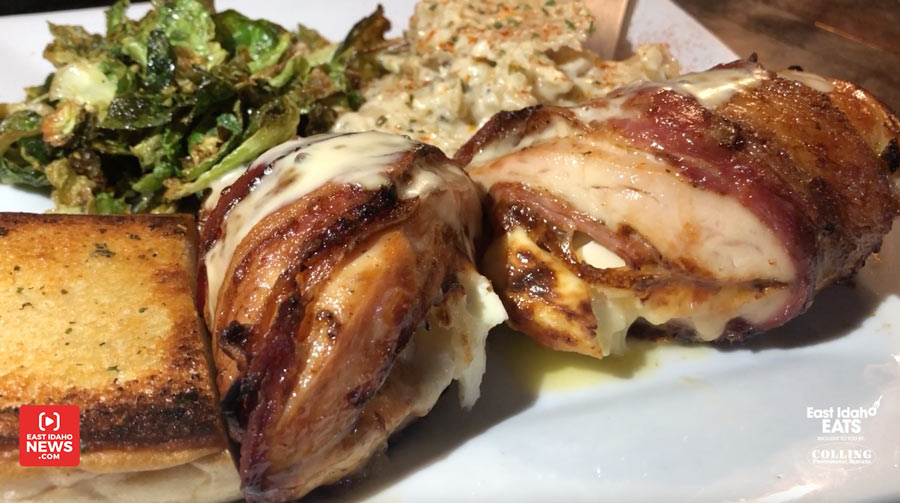 East Idaho Eats: Teton House owners love serving 'great meals' and large portions
MENAN – Receiving customers and offering them a "good meal" is what Leo Hancock and his wife, Danielle Dexter, appreciate the most.
Together they own Teton House at 3563 East Menan-Lorenzo Highway in Menan and 80 North Broadway in Blackfoot. They serve diners all over eastern Idaho a menu that includes red venison with potatoes au gratin and fried Brussels sprouts.
Other dishes include fresh halibut with lemon cream sauce and pasta, and chicken cordon bleu with tenderloin chicken breast topped with cream cheese, Swiss cheese, ham and wrapped in bacon. Dexter tells EastIdahoNews.com that their wagyu tips are one of the most popular articles.
Low-carb and gluten-free options are also available.
EastIdahoNews.com sampled part of the menu, which you can watch in the video player above.
Since the Menan restaurant opened in 2017, Dexter says the response has been "incredible".
RELATED | Biz Buzz: A couple moved here to retire and now own a popular restaurant
One of the restaurant's signatures is to serve large portions. Hancock says many customers ask for a box because they're struggling to finish everything, which he sees as another positive aspect of their service.
"I don't like going to a restaurant and having to stop for a burger on the way home," he jokes.
The duo continued their success in 2019 by opening a store in Blackfoot near Walmart. Problems with the building later led to its closure as they found a new location. They opened a new building on Broadway last month after an extensive renovation project, which they are delighted with.
RELATED | Biz Buzz: Popular steak and seafood restaurant opens new location in Blackfoot
"It's operational. We only do lunch and dinner Tuesday through Saturday, the same hours as Menan," says Dexter.
In addition to serving customers, the duo also enjoy giving back to the community. They offer a Thanksgiving dinner every year. It is specially designed for people in need, but it is open to everyone. Dexter says they served about 400 families last year and raised about $1,000 for families in need.
The couple also enjoy working with Dennis and Nellie Dole with the North Butte Classic Car Foundation every 4th of July to raise money for local families.
"One year, there was a gentleman who was disabled and who could not leave his home in a very accessible way. We helped build a ramp and the money went towards that," says Dexter. "For people who are unemployed (due to illness or other factors), the foundation helps them with whatever they need."
Leo and Danielle are grateful for all the support from the community and they hope to stay and continue to grow.
"We have great staff here who love to cook. It was their passion. I like to entertain and make sure someone has a good meal. That's the only reason we're doing this," says Leo.
Teton House in Menan is open 11 a.m. to 9 p.m. Monday through Thursday with a closing time of 10 p.m. Friday and Saturday. The Blackfoot store maintains the same hours, but is closed on Sundays and Mondays.