FCstudio completes "bento house" in Brazil with operable metal panels
private in the front, open in the back
FCstudio strikes the perfect balance between intimacy and openness for this contemporary residence in Sao Paulo, Brazil. Designed for a young couple and their two daughters, 'Bento House' establishes two different relationships with its surroundings. From the elevation facing the street, 'Bento House' is discreet while the rear facade opens onto a lush garden oasis.
This balance is also present between the two main volumes. The upper floor has functional panels that can be completely closed to block sunlight, guarantee privacy and acoustically isolate intimate spaces. Alternatively, these panels can also be opened at strategic points for lighting and ventilation. The ground floor, in contrast, opens to the garden in a fluid way with floor-to-ceiling glazed openings that blend the boundary between indoor and outdoor space.
pictures by André Mortatti
a metal container on exposed concrete walls
As far as the program is concerned, the ground floor hosts the public functions comprising an open plan kitchen, living room and dining room. This space is extended outside by an outdoor dining table on the terrace as well as a small bowl, fireplace and sitting area in the garden. The upper floor contains three bedrooms and a home theater while the basement includes an additional bedroom as well as a laundry room and other services.
The architects chose "sincere" and "no frills" materials for Bento House. The ground floor features exposed concrete and wood while the upper level is characterized as a steel container. The functional metal panels have a rusty patina that pairs perfectly with the warm wood finishes.
FCstudio was responsible for the entire project, including architecture, interiors and lighting. The team has also designed furniture for Bento House such as the Brasilia coffee table, the Ensamble dining table, the Box side table, the Ring bench and the Move bench.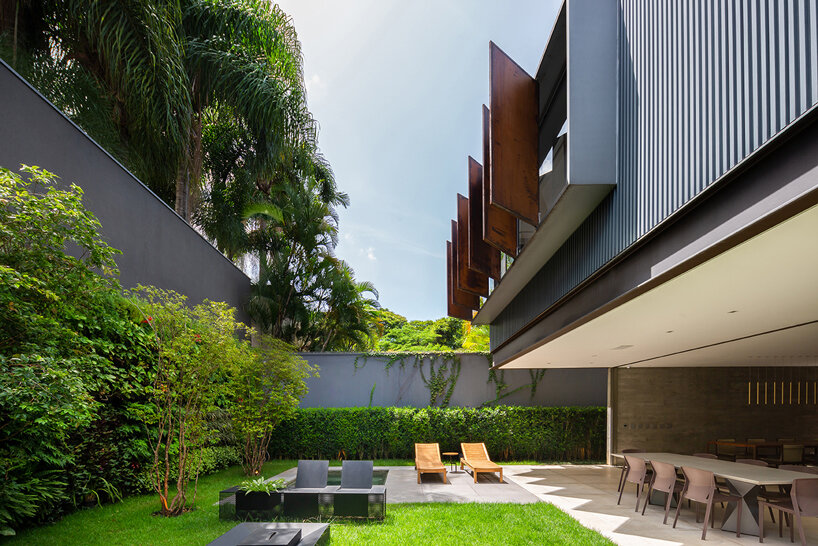 the ground floor opens onto a garden oasis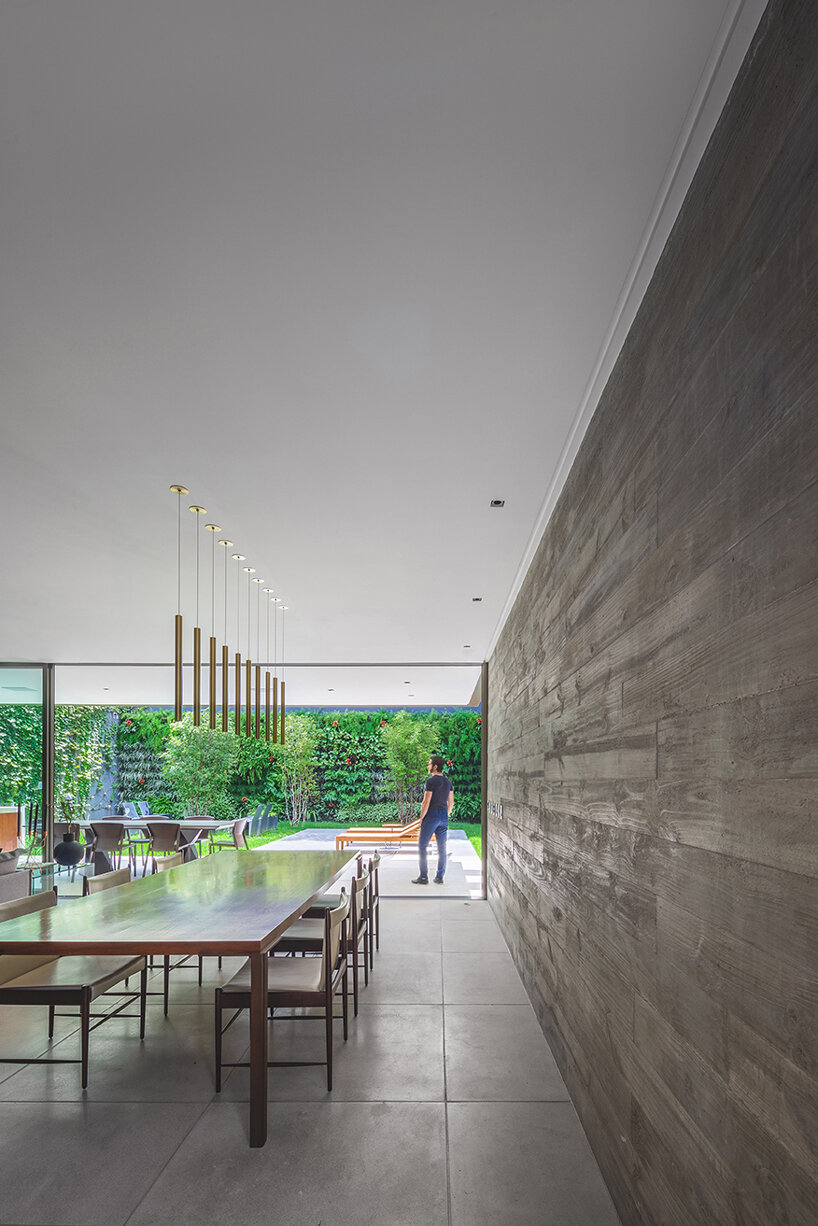 interiors feature exposed concrete walls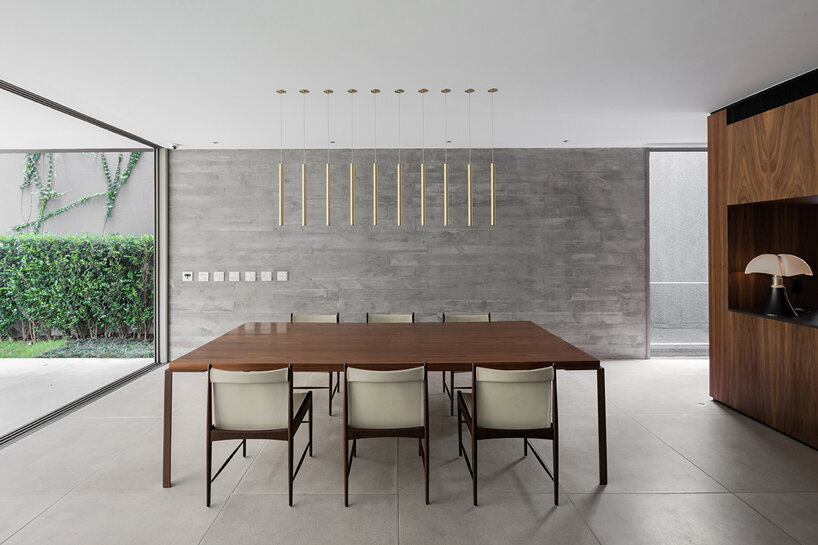 dining table view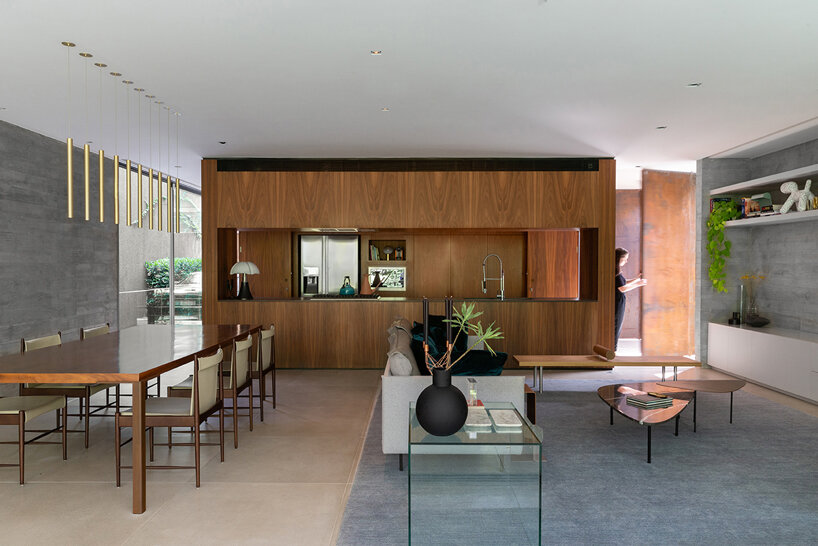 the open kitchen, living room, dining room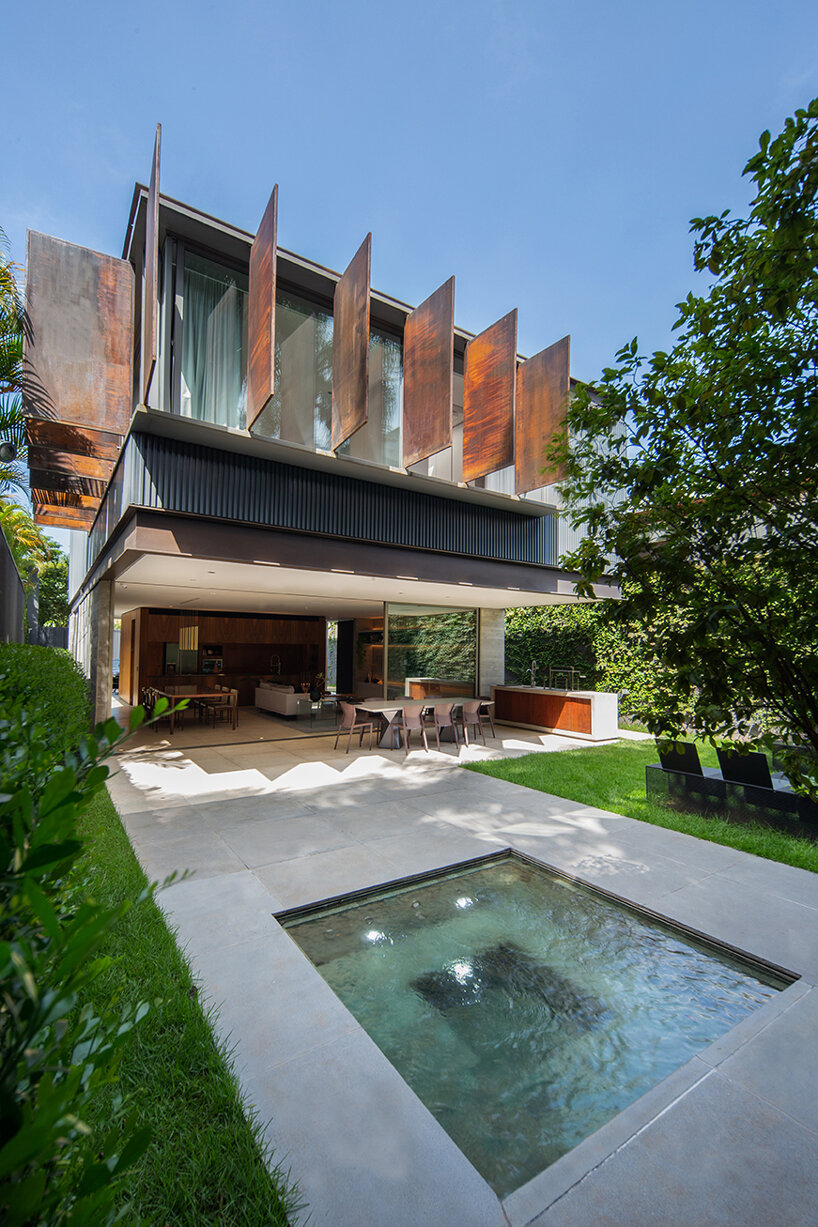 functional metal panels have a rusty patina that blends perfectly with the warm wood finishes
1/35
project info:
Last name: Bento House
location: Jardim Paulista, Sao Paulo, Brazil
architecture: FCstudio
construction: Engenharia Lock
the site area: 367 m²
total built area: 424 m²
year: 2022
photography: André Mortatti