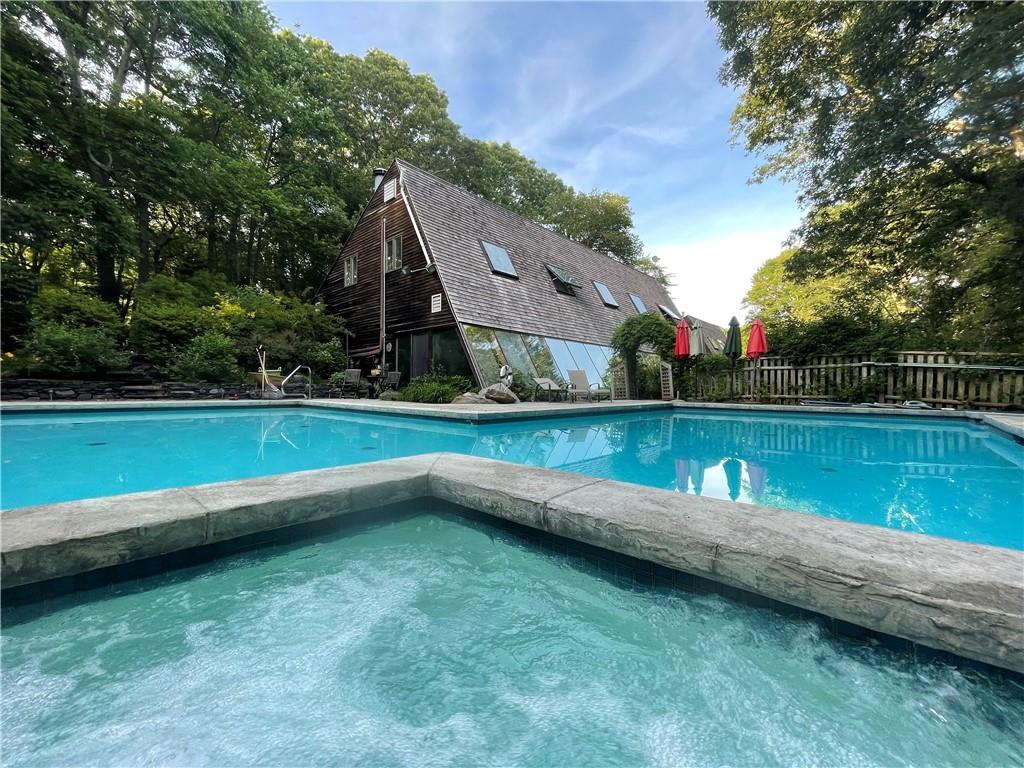 House Lust: an ecological oasis in Saunderstown is on the market
On this wooded property, you have the choice: a dip in the sun in the oversized heated swimming pool or the hot tub for ten people?
As a real estate agent, Ann McCrory sees a lot of cookie-cutter properties.
"He's not one of them," says McCrory of Randall Realtors Compass. "It's such a cool house."
Its listing, in the woods of Saunderstown, has been strategically designed to be effective. Deciduous trees keep the house and outdoor seating area cool in the summer. When the branches become bare in the fall, the sun warms the living spaces through the window walls and skylights. The 1978 house, which is electrically heated, also has a wood-burning stove and fireplace.
"They were ahead of their time. The contemporary feel is different, and people are going back to it, "says McCrory of the design, with elements in wood, slate and brick.
The house, accessible by a one kilometer long shared private road, spans four hectares surrounded by another fifty-four hectares of common land. The outbuildings include a two-car garage with a beautiful attic, which serves as an office for the current owner, and a two-stall stable. An oversized heated swimming pool, with a ten-person sunken hot tub, is nestled in a nook under the trees.
"It's really for the person looking to be private, where you come home and all you see is woods and land around you," she says. "It's just very beautiful."
Here is your House Lust:
For more information on 1151 Vineyard Road in Saunderstown, contact Ann McCrory of Randall Realtors Compass at 401-413-6075 or visit randallrealtors.com.
RELATED ARTICLES
House Lust: a former public house and airy tavern in Portsmouth town center is on the market
House Lust: Inside the Chafee Family's Dream Estate of Potowomut
House Lust: An enchanting family resort in the historic village of Usquepaug is on the market