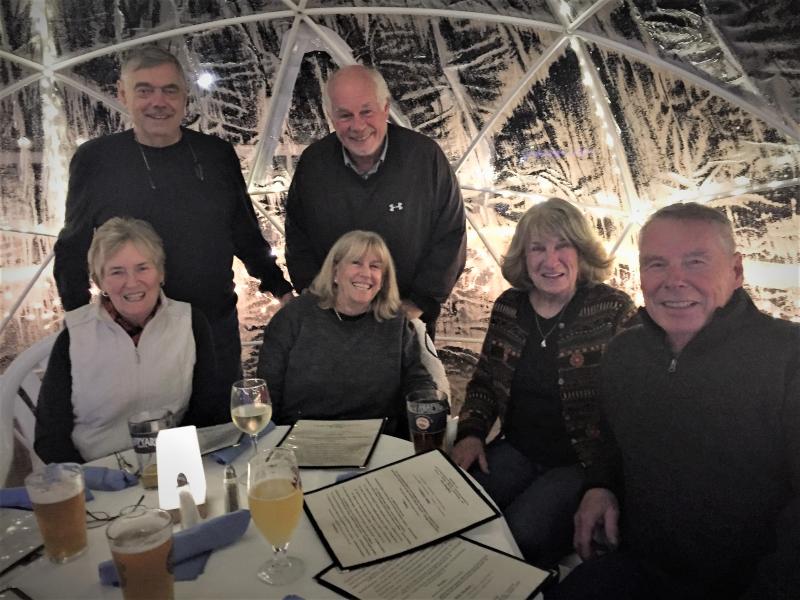 Igloo Dining by the Tugboat Bridge
Over Thanksgiving weekend, Tugboat Inn, 80 Commercial St., Boothbay Harbor, began offering igloo dining on the Marina Lounge Deck. Twelve feet in diameter, the two igloos are adorned with white lights and can accommodate two to six people.
Reservations (at 633-4434) are required for dining in the igloos. "They are very comfortable and cool. You are in this bubble with white lights all around. You don't feel locked in at all, "said CEO Bonnie Stover. "People just love them. They want to eat in an igloo! If I had room, I would have more.
The idea came from Carla Lafayette. She and her husband Dan own the Lafayette Hotels, which include Tugboat, Boothbay Harbor Inn and Fisherman's Wharf Inn and owned by Kennebunkport The Breakwater Inn. The Lafayettes had two igloos there in 2020 and have added two more this year.
Carla Lafayette thought the igloos would be perfect for Tugboat, as they stay open during the holidays. Stover agreed.
Keeping heat in mind, indoor / outdoor carpet has been installed on the deck, along with additional electrical outlets for box heaters inside the igloos and white holiday lights. Stover said they also had warm, fluffy blankets inside, just in case, but the igloos were comfortably warm the first weekend.
"Everyone who dined there loved it and we have tons of reservations coming," said Stover. "They are stunning, they are so pretty at night and you can see them from the water and the street."
The maintenance team installed the igloo frames and the plastic interior liner. All the staff participated in the decoration. Dining room manager Debbie Wickert set up the tables and, for added ambiance, added lanterns to each.
The igloos will be at Tugboat every Thanksgiving until New Years Day. To learn more about Tugboat, visit www.tugboatinn.com