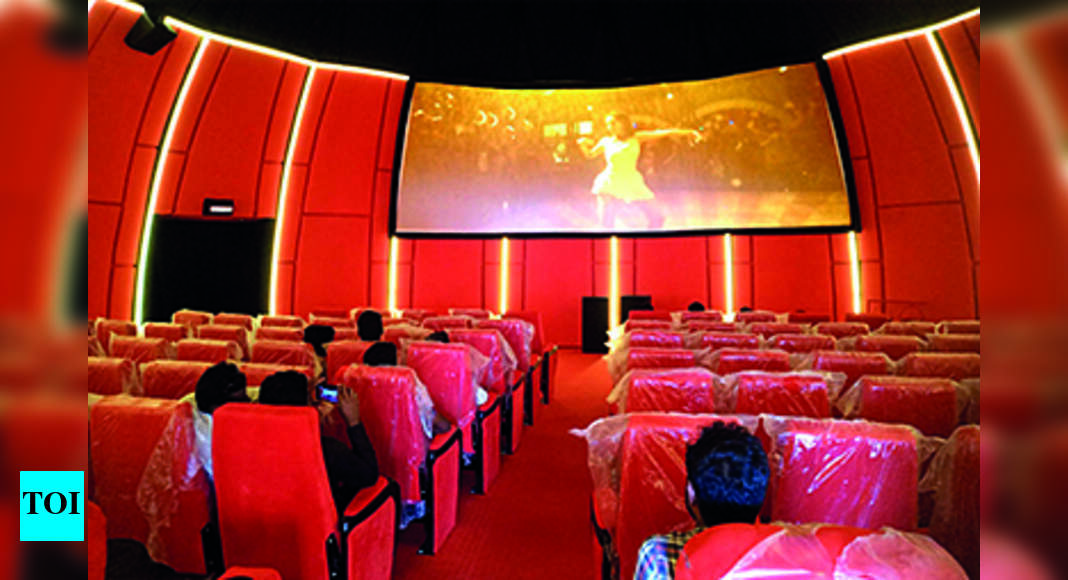 Is it an igloo? Is it a circus tent? No, it's a Dome movie theater! | Hubballi News
Haveri: From a distance, an igloo-shaped dome would look strange in the middle of Haveri. Inside is a movie theater.
Chhotu Maharaj Cine Cafe, which is a 100-seat movie theater, is already a hit, according to its owners. PSR Cinema Institute and Charlie 777 actor Rakshith Shetty are behind the project, supposedly the first of its kind in Karnataka.
The fibre-reinforced plastic dome, 42 feet in diameter and 26 feet in height, houses a screen and has multiplex-like interiors but is less expensive. The idea is to make dome cinemas popular in small towns where people want the creature comforts of big cities.
"The Chhotu Maharaj movie theater model will be a hit in small towns, where people yearn to watch movies in a good environment. Viewers can enjoy a seven-course meal and watch movies at affordable prices," said Satish Pancharia, Chairman of Chhotu Maharaj Cine Café.
He added that the theater is water and fire resistant and receives a good response from the audience.
Similar cinema cafes have opened in Maharashtra, Uttar Pradesh, Punjab, Andhra Pradesh and Telangana.
The Chhotu Maharaj Cine Café has distributed a franchise to Bagalkot, Davanagere and other small towns in Karnataka, but only in Haveri it has a working cinema hall, making it the first of its kind in Karnataka.
It used to be when Haveri people had to travel to Davanagere and Hubbali to watch movies in multiplexes. This domed theater may be the solution. It also has a picnic area as it is set in a children's play area.
PSR Cinema owner Prashant KB said, "We invested Rs 35 lakhs and the company provided the infrastructure for the theater like software, dome, screen, projector and sound system. We hope that people will accept this concept in Haveri. he said.