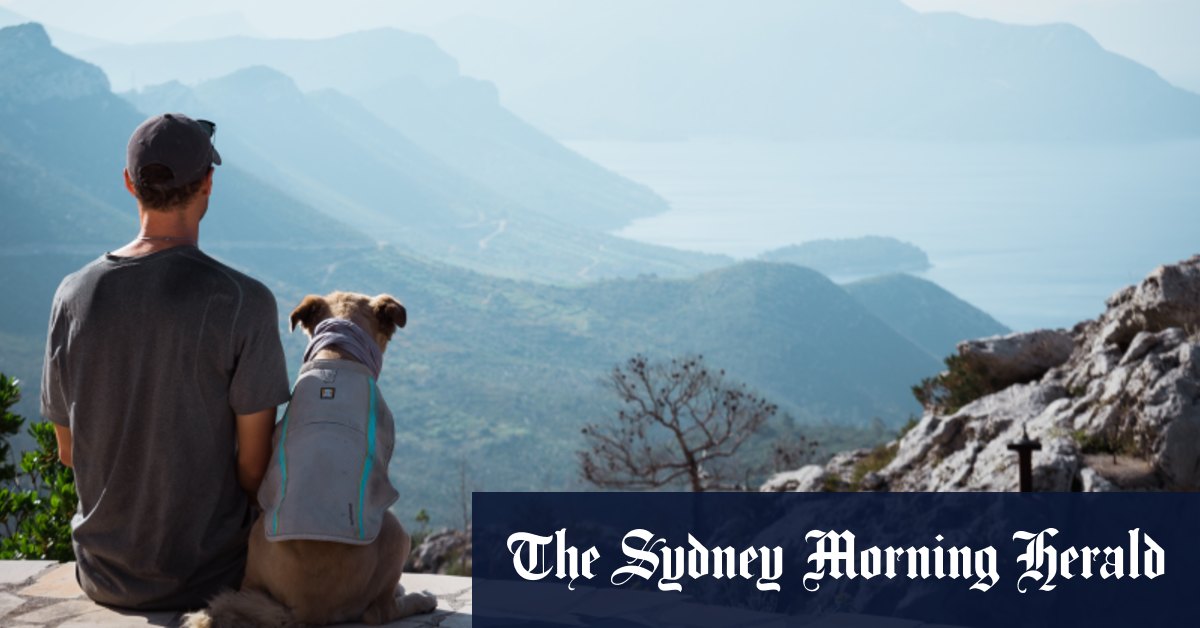 The adventurer and his faithful dog complete a seven-year trek around the world
"This march probably wouldn't have happened without them," says the 33-year-old. "Their death woke me to life."
With Savannah by their side – a puppy he picked up from a shelter in Texas after being abandoned on a road – the couple had the privilege of experiencing the world in all its rawness and richness.
They have traveled through walnut forests in Kyrgyzstan and traveled the coastal roads of Turkey where pristine beaches lurk around almost every bend.
They scaled the hills of southern Croatia in scorching heat and sailed in colder weather across the lava ridges of Iceland.
And they experienced the kindness of strangers, from the imam of the mosque in Uzbekistan who let Turcich use their electricity to charge his things, to the family in Algeria who gave him a bed to sleep in and the helped find his feet in such a foreign land.
The support from strangers also continued in Philadelphia, where admirers from across the United States gathered at the Benjamin Franklin Bridge this afternoon after Turcich made an Instagram post inviting people to join him. and in Savannah as they headed to their homecoming party at her local pub. the Taproom and Grill in New Jersey, about two and a half hours away.
Among those who answered the call was 24-year-old Dylan Blecher, who said he was "inspired by this guy for four years" and flew in from Florida for the occasion.
Also on the walk was 26-year-old Los Angeles resident Jay Matthew, who had also been moved by Turcich's global adventure, which had been documented on social media.
"I think it's a triumph of the human spirit, really," Matthew said. "Tom is also a great guy, he's very humble. And there's also the first dog to go around the world – I mean, you gotta love a dog that does that, right?"
Shortly after 6 p.m., Turcich, Savannah and their walking companions arrive at the pub, joining hundreds of others who have gathered to welcome their local hero: local government officials; family and friends; neighbors and strangers.
Crowds cheer as they spot the pair in the distance, some running down the street to greet them as they approach, others patiently waiting for Turcich and Savannah to make their official entrance under a balloon arch and into the beer garden for their party back.
Savannah, wearing a pink bandana around her neck, seemed largely out of step with all the attention as she weaved through the crowd.
Turcich's parents, Tom and Catherine, are there too, thrilled that their son is finally home and overwhelmed by the support he's received along the way.
"It was difficult at first," Catherine says, fighting back tears as she reflects on how difficult it was to watch her son leave all those years ago, not sure when he was going to return.
Loading
"He was so young… and I thought to myself: what is he getting into? But once he came across South America, I realized he knew what he was doing, and that's when I bought in and adopted him.
As for Turcich and Savannah, the question many are asking now is: what happens next? After such an incredible adventure, how will they cope with the normalcy of life back home?
Turcich admits it's going to take time to adjust, especially for Savannah, who he adopted as a puppy "so that's the only life she knows".
Still, he's looking forward to sleeping in, he says, and spending more time with his girlfriend, Bonnie, whom he met nine months ago while walking around Washington state. He also plans to write a book about his unforgettable journey.
"No matter what, I know I will travel more throughout my life," he adds. "There is always something to live for in this world."
Get a grade directly from our foreigner correspondents on what's making headlines around the world. Sign up for the weekly What in the World newsletter here.