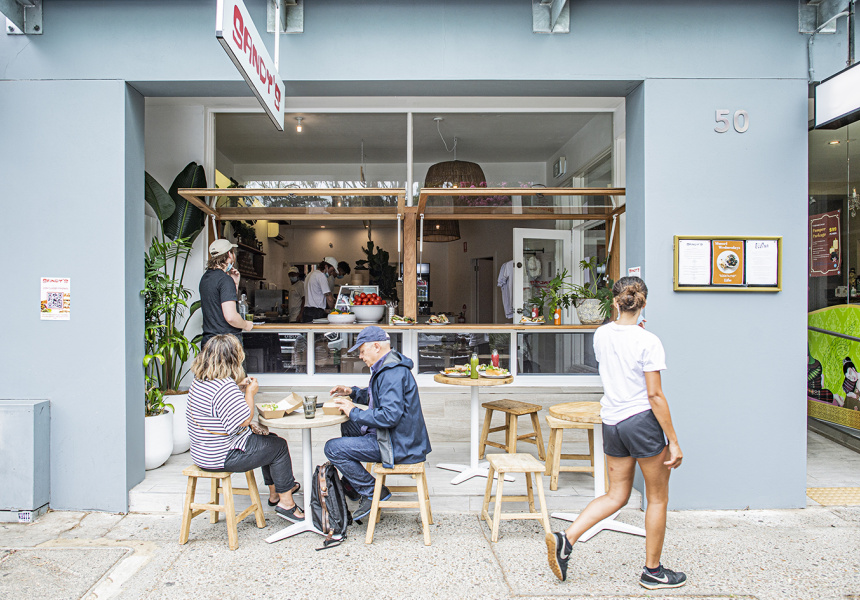 The "Prawn Dog" is the highlight of the show at New Avalon Beach Takeaway Sandy's, from the team behind Bar Elvina
It seems that shirts and shoes are optional when Large format visit Sandy's, a new take-out store by the team behind the Bar Elvina wine bar and restaurant (which is just upstairs).
"It was a retail store when we moved in and I said to the owner, God forbid business downstairs goes, I want to be the first person you call," says co-owner Andy Emerson (ex-Prince of York, Acme). Although they didn't have a concept yet — they envisioned a bottle shop or deli — a fresh sandwich and salad bar made the most sense for the bright street-facing space.
The five-sandwich menu – curated by co-owner and chef Jesse McTavish (ex-Kettle Black in Melbourne, North Bondi Fish) – includes a chicken schnitzel option stuffed with bacon jam mayo, Caesar dressing and watercress, and a Wagyu pastrami, coleslaw, grilled pineapple, smoked butter and watercress situation. But the standout might just be the Prawn Dog: a hot dog bun stuffed with king prawns, watercress, pickles, and cocktail sauce.
"Some people have a negative reaction and are really hesitant," says store manager Tom Culic. "But anyone who knows what's going on upstairs sees seafood on the menu and knows it's going to be done right."
There are also four salads, including one with green tea soba noodles, mint, peanuts, shallots, pickled ginger, tofu, sesame soy vinaigrette and raw vegetables, most of which come directly from from a client's farm in Terrey Hills.
The team also selects ingredients from its rooftop garden, which Emerson jokes has doubled as a "staff zen garden" during numerous lockdowns. (Bar Elvina launched in December 2020, shortly before the northern beaches went into summer lockdown.)
Co-owner Nick Musgrave (ex-Three Blue Ducks, Prince of York, The Corner House) is quick to add that it's not just 'super healthy – but damn overwhelming' food they're after at Sandy's.
Most of their suppliers are close friends. The cold-pressed juices come from a farm of a friend of Jesse's in Dandenong, and the Tombucha kombucha comes "from a local guy called Tom who brews behind the butchers up the road," says Musgrave.
The interiors are the work of a friend of Emerson's from the design firm Caswell Group. Original terracotta floors influenced the design, with the bar wrapped in western red cedar and topped with beautiful Turkish pink marble. A new cantilevered window opens onto the street like a school canteen.
The aim is for catering to occupy an important place in this activity, whether for weddings, meetings or events. There are even plans for school lunch boxes that you can pre-order and pick up on the way home.
at Sandy's
Suite 2, 50 Old Barrenjoey Road, Avalon Beach
(02) 9443 2525
Hours:
Monday to Saturday 10 a.m. to 4 p.m.