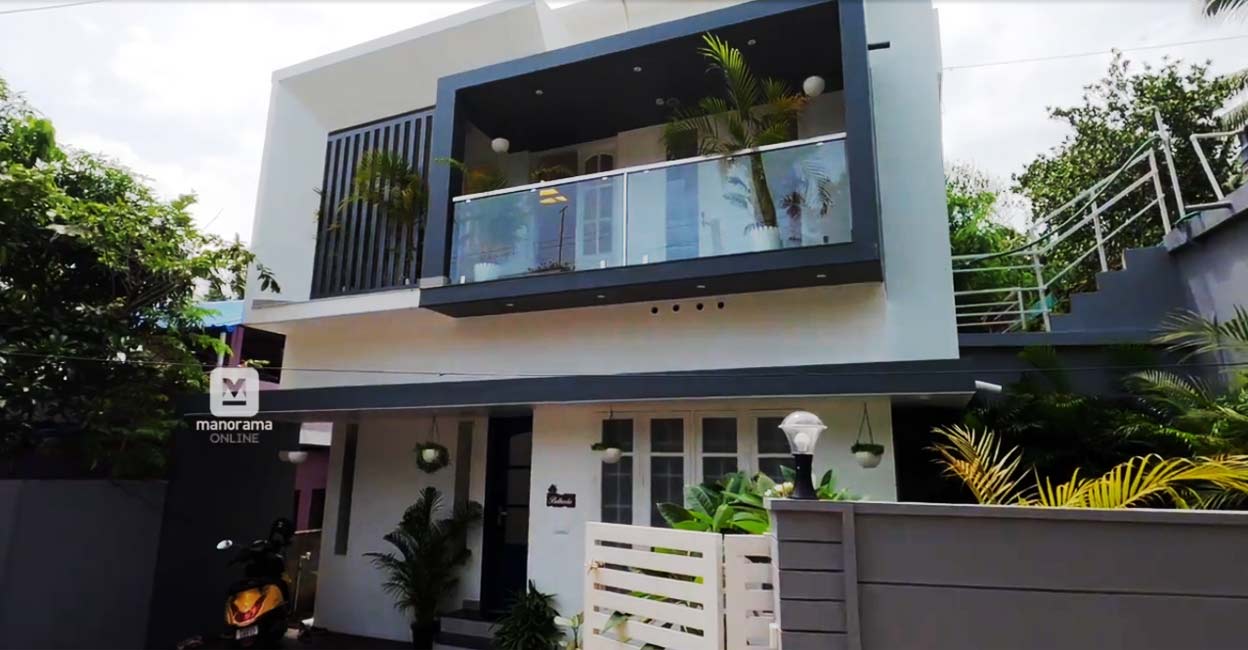 This Stunningly Impressive Home in Kovalam is 3 Cents | lifestyle decor
This house, built in just 3 cents, in a beautiful location near the iconic Kovalam Beach in Thiruvananthapuram stands out with its smart designs and compact features.
Vishnu and Anice who work at the Technopark and their young daughter Vinaya are delighted to show around their brand new home. Initially, the owner wanted to acquire land and build a house on it. However, the exorbitant price of land here deterred them from pursuing the idea. It was then that Vishnu's eyes had landed on the ground 3 cents away near his ancestral home. However, many have tried to dissuade him from building a house there as it is a narrow plot with a road frontage of only 7 meters.
Finally, engineer Krishnaprasad, who is also a relative of the family, took charge of designing a fabulous house here. He is the brother-in-law of actress Anu Sithara. It was Krishnaprasad who designed the actress' new home in Wayanad. Interestingly, the owner of this house is the engineer's cousin.
The elevation features the simple yet elegant flat box style in order to accommodate such a small plot. Meanwhile, the Scandinavian theme of the house is unique and elegant. The interiors are minimalist without cluttering the spaces with decor or unnecessary furniture. The walls are mostly in the elegant combination of white and gray tones.
Two vehicles could easily be parked in the front yard. The structure was closely built to the ancestral home, taking advantage of a legal disposition.
The splendid home built on 1700 square feet includes living and dining areas, an open kitchen with a work area and a bedroom on the ground floor. Meanwhile, there are two more bedrooms, an upper living room and a balcony on the upper floor. The open terrace allows the family to add more facilities, if needed, in the future.
The kitchen pantry is quite simple and perfectly suited to the lifestyle of the couple of IT professionals. An adjacent work area complements the modern kitchen.
The dining room, meanwhile, is located near the pantry area, under the stairs. A washing area has also been set up here.
The staircase leads to the upper living space. From here one could enter the balcony decorated with elegant indoor palm trees.
It was quite a challenge to design the house while keeping a well that never dried up at the back. This was overcome seamlessly through smart designs and flawless execution. Now the well is "technically" inside the structure, even though it is still outside. There is no floor or boundary walls in this area. But, one bedroom on the top floor is directly above the well.
The construction of this amazing abode including structure and furnishings was completed with an affordable budget of Rs 42 lakh. The family says the house is filled with natural sunshine and a cool breeze that gives off a positive vibe.
Project Facts
Location – Kovalam, Thiruvananthapuram
Land – 3 cents
Area – 1700 SFT
Owners – Vishnu and Anice
Designer – Krishnaprasad
Uli Design Studio
Crowd – 9447486538
Year of completion – 2021