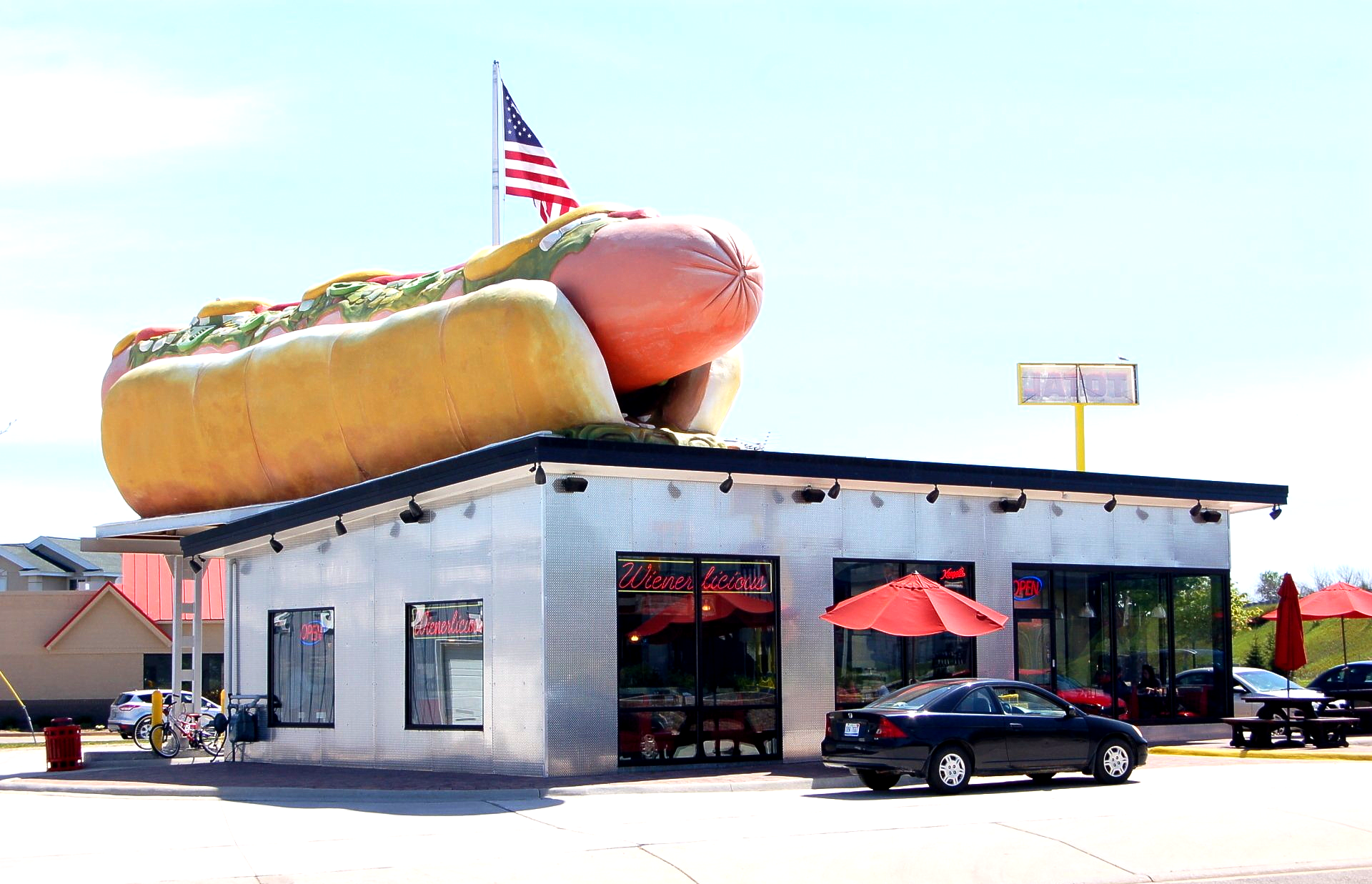 world record set in Mackinaw City, Michigan
Mackinaw City, Michigan, United States–A huge spray foam sculpture of a sausage with fixin's in a bun, created by the artist
Ron Berman (from Berman Studios in Palmetto, Florida), and located atop a restaurant called
Wienerlicious in Mackinaw City, Michigan, USA, is 63 feet long, 15 feet, 2 inches high, 12 feet wide and weighs approximately 2.4 tons, setting the world record for being the
The world's largest spray foam hot dog sculptureaccording to the WORLD RECORD ACADEMY.
"Michigan has the 'world's largest' model tire, a cherry pie, a weather vane, a picnic table, and a working rifle, so what better way to build a giant weenie?" said
Henry Behlinga representative of
Great Lakes Roofing and Insulation, the Sault Saint Marie, MI company chose to supply the spray polyurethane foam to create the sculpture. "The artist insisted on SPF foam, and we're experts at spraying foam in this Michigan climate, so it worked really well."
When the
Wienerlicious owners,
Frank N Stuff Inc., wanted a giant hot dog on top of their new building, they didn't have to far to find the guy to make it happen. They chose the same artist who created a 30-foot-tall grizzly bear just up the street in Mackinaw City, Ron Berman of Berman Studios, Inc.
"I'm a urethane man," says Berman, whose studio is located in Clearwater, Florida.
"I spent years working for Disney where everything is expanded polystyrene (EPS), but when I went out on my own I met Tim Kearns, the grandfather of spray polyurethane foam (SPF). He taught me all about machinery, the chemical process and how to spray polyurethane foam, and I fell in love with it. It's a great product for sculptures like this hot dog. Since then, I've developed my own system of designing, manufacturing and using the SPF which gives me real flexibility and allows the customer to save 40-80% on materials and production time.
Berman says he was impressed with Behling and Great Lakes Insulation: "Their knowledge and level of spraying skill was truly impressive. And that brand of FPS they were using was incredibly consistent. Worked very well in the fluctuating climate we worked in.
Behling agrees on the foam brand, "We used
NCFI's InsulStar closed cell foam because it's the best on the market. It's clean, trouble-free, and still delivers the same performance. We ended up using about five sets of InsulStar to make the hot dog, a little touch-up, and the mustard and jalapenos.
Although he doesn't divulge his proprietary process, Berman says he starts with sketches, then 3D modeling, then creates the exoskeleton by bending a pencil-rod steel wire armature – which, in the case of the hot dog, was made by a 13 year old. -former apprentice—then Great Lakes sprayed 2 inches of InsulStar. "Once the spray foam has hardened, we sculpt it. Again my process saves the client as we can use workers instead of artists to do the shaving. Then we touch up the foam where it needs it and seal everything with fiberglass. I usually use polyurea, but the client wanted fiberglass, so we used that. Then we paint it.
Asked about his obvious pride in the sculpture's success, Berman said, "I mean, it's a hot dog. It is not Rodin's Thinker. It's a giant beast. But, it's a magnificent giant weenie.
Wienerlicious the owners say the giant hot dog is working just as they hoped to attract customers. As one reviewer on TripAdvisor® said, "When you pass a restaurant called
Wienerlicious with a giant hot dog on the roof, how not to stop and try it? »
World's Largest Spray Foam Hot Dog



"The hot dog weighs just over 1.5 tons, but measures 63 feet long by 12.5 feet high from its base. It was created by artist Ron Berman of Berman Studios in Palmetto , Florida. That would be me."
"A Weinerlicious experience! Worth all the tip and more!"
"The place is clean and the staff is professional. Make sure you have a photo of the roof."
"Amazing! The dogs were so good and it's a great photo shoot! The staff were so friendly and made us feel welcome! They have a great dinner atmosphere. Overall, definitely recommend going Stop."
"Love the big weiner on the roof. The food was good! The manager and all the staff were so friendly. They even took our picture."
"Looking at that cute giant hot dog on the rooftop every day helped us make the decision. Hot dog time! Each of us ordered something different. A hot dog from one foot to the other. Looks great! All were delicious. We love this place. Would recommend."
"The giant sausage caught our eye from the freeway and luckily we took the last exit before the bridge. We're so glad we did.

My wife raved about how good her Chicago dog was. Although messy, my Spicy Italian Sausage with Onions and Peppers was exceptional. No little sausage either. We share a medium basket of waffle fries with chili and cheese which were really good."
The world's largest spray foam hot dog sculpture
Address: 102 Central Avenue, Mackinaw City, Michigan
Directions: Northbound: I-75 exit 339, turn right at bottom of hill. Go two blocks south on Nicolet to East Central. Hot Dog is on the southeast corner of Central and Nicolet. Southbound: I-75 Exit 339 onto West Jamet St. After about one block, turn left onto Louvigny St., go two blocks south to Central, turn left; hot dog is on your right after you exit under I-7
Call:
231-436-7430
Business hours: Mon-Thu 11:00 a.m. – 10:00 p.m. Fri-Sat 11:00 a.m. – 11:00 p.m. | Sun 11:00 a.m. – 10:00 p.m.
Facebook:
https://www.facebook.com/WeinerliciousMackinawCity/