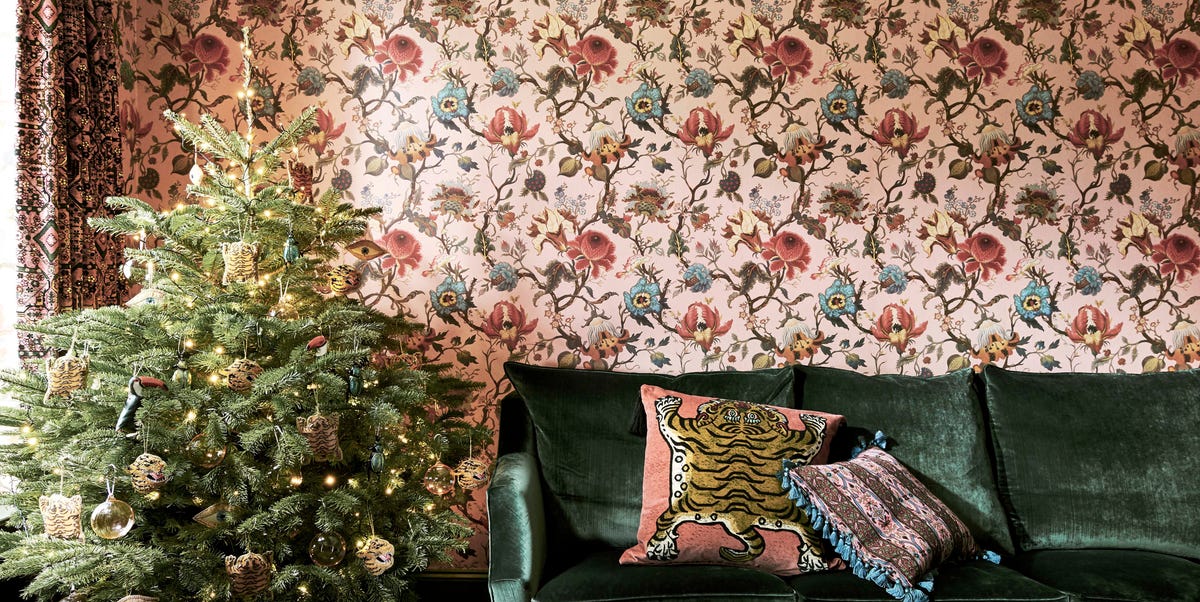 You have never seen a Christmas decor like this
Frieda Gormley and Javvy M Royle are unlikely to appear minimalist or traditional – the husband-wife couple are, after all, the founders of Hackney House, one of Britain's most flamboyant and directional design brands. Take a walk around their London Fields townhouse, however, and it becomes clear that their home is both of these things. "Aside from all the wallpapers and textiles, this is actually a very classic blank canvas, with black and white Victorian tiles and dark woods," says Frieda. "Yes, there are a lot of colors, but we don't have a lot of 'stuff'. For us, the house is quite serene.
It's hard to imagine, but when Frieda and Javvy first moved into their home in 2007, they painted everything white and decorated in Scandinavian style. "Working in the design industry, we gradually felt that we wanted to add more prints, colors and textures," says Frieda. "But we haven't found anything we like. Making this house was really the catalyst to start House of Hackney.
The five-bedroom Victorian property (which the couple share with their nine-year-old son Javi and six-year-old daughter Lila) is now awash with fabrics and wallpapers from the exuberant House of Hackney collection. Getting so many people together could easily have been overwhelming, but Frieda and Javvy made it work with a clever approach to color. "We like to decorate with gray tones rather than bright colors, and all the rooms are very tonal," says Frieda. "People are commenting on how harmonious it looks. The blue rooms and the pink bathroom are peaceful, while our red family room is very energizing.
Every day here is a celebration of the confident, maximalist style, so the family tends to keep Christmas decorations to a minimum. The festivities center around the tree and an elegantly furnished dining table. "Your tree is a manifestation of your taste," says Frieda. "We love a traditional Christmas with our own personality imprint on top. And kids love to make garlands with our wallpapers! Javvy's passion for indoor greenery adds to the seasonal joy. "Most of our houseplants are Victorian inspired to complement the house – there are lots of palms and ferns," he says.
While they are clearly innovators, much of Frieda and Javvy's taste is rooted in the past. They've incorporated plenty of antiques into their home, and even their kitchen extension, designed with MRA Architects, who also worked on the House of Hackney flagship store in London, is a Victorian-style greenhouse rather than a glass box. modern. "We wanted to create a sense of nature, but also to inject beauty and humor into the space," says Frieda. "Decorating our house is really a chance to play.
Stylized by Sophie Brun
This article first appeared in the December 2018 issue of ELLE Decoration France.
This content is created and maintained by a third party, and uploaded to this page to help users provide their email addresses. You may be able to find more information about this and other similar content on piano.io